How to start living unapologetically in 2023
Secretly dream to spend your Sunday walking in the forest, or enroll to a cooking contest during your weekend with your BFF Betty?
"#Duh.. Sure, I do… Who doesn't want to have spare time to chill, binge watch Netflix, read Pride & Prejudice for the hundreds time while sipping white wine from a small French vinery?"
? I saw your eyes rolling… ?  I swear
But, at the moment, your real life looks like this:
– "I can't stick to planning. I tried dozens of time. When something gets in my way, I quit."
– "I freak out to mess up with my planner. It looks so perfect in its embossed box."
– "I have nothing to plan. My life is too crazy. There must be something wrong with me."
 – "Every time I use a planner, it reminds me I'm a failure because I give up on my dreams 100%. "
If you nod at least once, then Pick Perfect Planner is made for you
Living your dream life where you're confident, creative, & capable to sleep 8h straight is NOT:
cramming 25 hours on webinars every weekend
locked in a closet at 3 am while your kids want to spend time making chocolate chips cookies for tea time
adding 139 new items every day to your To Do List
wishing to get the pins  of the highest number of sweet memories sacrified in a lifetime
exhausting yourself by following trends you have no interest in
(yes… I call you Miracle Morning, Marie Kondo, peer pressure to buy a new crystal worth the price of a 2-bedroom house, or the undrinkable Green juice after a yoga session that left you angrier than a hungry bear without honey)
assuming your lifestyle must be "fixed"
because it looks different, off beat, out of the mainstream flow (yet, highly respectful)
second guessing your needs for Me Time
because you "have" to get out of your Comfort Zone, get a hustle badge of honour, or run 79 marathons every day to be a real Human
The secret to live unapologetically is simple: pick a planner that works for you
aka a planner that will support, strengthen, & sustain your way of living even if all you want is to:
–  do nothing during your spare time
–  say "NO" to your daunting 20-something Instagram addict boss called Laura 
– become the fastest runner for a semi-marathon category +90 years old
– daydream about your next vacation on the italian coast (already smelling home made lasagna and citrus)
– learn how to sew a shirt to impress your high-school BFF 
– sip a cup of Earl Grey watching Downton Abbey wrapped in a blanket with your SO
I squeezed 11 years of research into a short, straightforward, & at home mini course
so you get:
– quick results (each tiny step takes about 5 min to digest)
– save $$$$ (stop wasting money on various planners you never use)
– save time (use only what works for you right now)
– peace of mind (ditch indecisiveness, 179 open tabs brain fog, …)
– more opportunities to tick off long-awaited dreams
Time Left To Enroll at $37
WHO'S PURDEY?
She's the author of Comfort Zone Rocks who helps Spiritually Sensitive Introverts & Mavericks go from pleasing people to living unapologetically. She blends inner gifts with practical blueprints and tarot because carving your own path in life requires these three sides, & how you weave them is as unique as your DNA.
Purdey's podcast (The Hygge Planner Show) has been downloaded 100 000+ times, is available on 11 platforms & hosts more than 115 episodes.  2000+ read her emails every week. And, since 2017, she plants at least 100 trees/ yr to support reforestation.
FUNNY FACTS
After 8 years spent in Montréal (Qc, Can) & Lausanne (Switzerland), she currently lives in France where she's developed a passion for kawaii sketchnotes.
She craves freedom, seeks (occult) wisdom, hates small talks, BS, fad trends, & mainstream crap.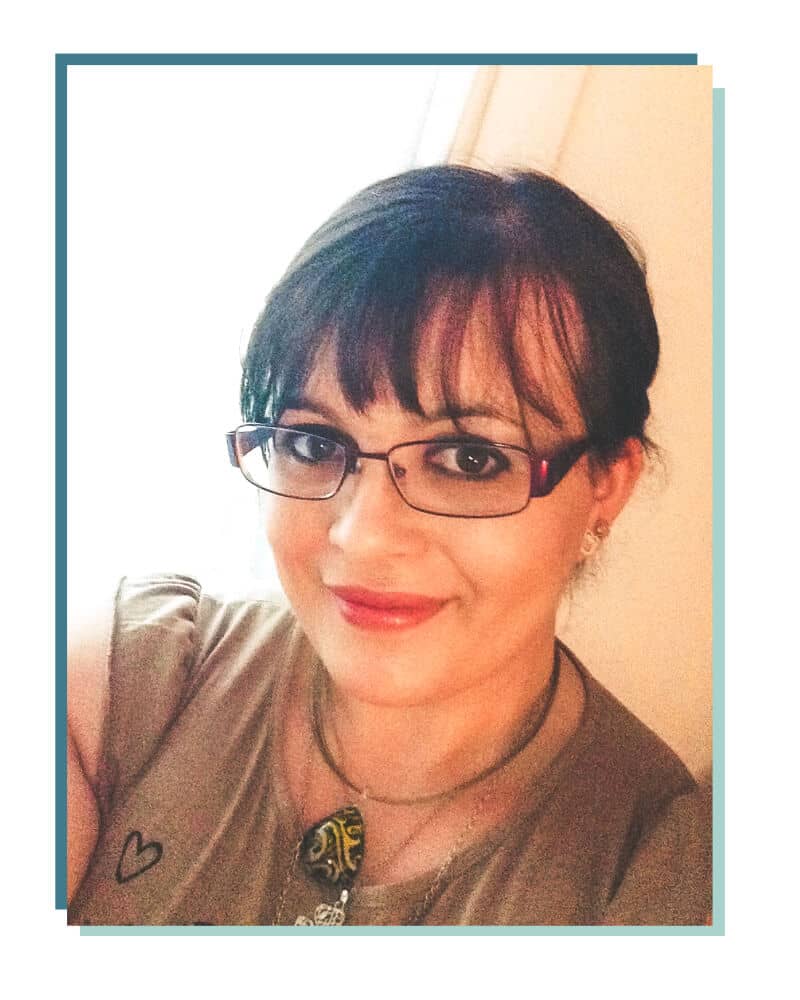 ✨Goodies you're too smart to miss✨